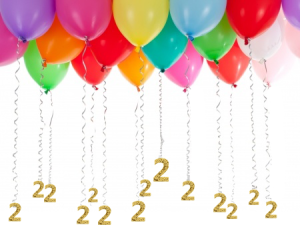 Walk It Off (WIO) fundraised for 1-1/2 years to reach the goal of $30,000 to officially open the doors to the facility. Since that date, we look back on the accomplishments of our organization and our clients as we celebrate 2 years of operation.
January 21, 2012 was the grand opening of Walk It Off Spinal Cord Wellness Centre Inc. and the start of reaching milestones.
We are overjoyed to share some of Walk It Off's accomplishments:
WIO started with 3 clients at our opening. We now have 28 from surrounding communities and some who make occasional trips from as far as Sault Ste. Marie, North Bay and one from Ireland!
Julia, our first SCI Recovery Trainer, was sent down to California in 2011 to learn the specialized technique that makes WIO stand out. WIO is now working with 4 trainers and 1 SCI Recovery Facility Assistant.
Our facility started with one 8'x8' plinth (exercise table) and a hand full of gym accessories. Through continued fundraising and most appreciated donations, we now boast the only Functional Electrical Stimulation bike north of Toronto, a partial body-weight support system and treadmill for gait training, Total Gym for supported leg exercises, Parallel Bars, Electrical Muscle Stimulation units, stationary bike and additional gym accessories.
WIO was the proud recipient of the 2013 York Region "Organization of Character-NPF or Service Organization" Award.
Walk It Off Client's would like to share some of the their accomplishments:
Kevin M. C 5-6 Quadriplegic
I can now raise my right arm over my head without my triceps giving out. This has given me the ability to reach and do many tasks above shoulder level
Two years ago, I could only swim 15 metres. Last week, I completed 1km!
I upped my training and completed 4 half marathons in my everyday chair; one in 2012 and 3 in 2013 (6 in total since my accident). I'm on my way to Florida to do my first hand cycle half marathon.
Norma C. Paraplegic
I haven't been able to walk since 2008. I have worked hard these last 2 years with the support of my son, Jordan. I am walking the length of the gym with a walker and build more confidence every day. Never give up and have faith!
Ed. C Paraplegic
I started to stand and walk in a body weigh support system. It feels so good to sense the weight through my feet.
Ken H. Paraplegic
My core has become stronger and my seating stability and balance has improved.
Congratulations to all for meeting your goals and accomplishing Milestones.
We would love to hear what you have accomplished and the goals you have set for your future. Please leave a link back to your own blog too if you have one, via the commentluv feature here on the site.
Until next time,
Heather
http://walkitoffrecovery.org/wp-content/uploads/2013/05/cropped-wiologobanner1.png
0
0
Walk It Off Recovery
http://walkitoffrecovery.org/wp-content/uploads/2013/05/cropped-wiologobanner1.png
Walk It Off Recovery
2014-01-22 10:03:00
2014-02-19 10:22:09
Walk It Off Spinal Cord Wellness Centre Celebrates 2 Years!