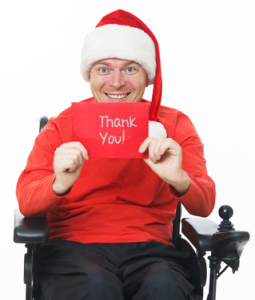 We've said goodbye to November and all the Movember mustaches and are quickly moving through December, or for Kevin, Decembeard, with the holidays fast approaching. The holiday season is one for caring, sharing, and giving back. Finding the perfect gift for that special someone can be a challenging task so here's an idea to make it easy for you! For those of you struggling to find that special gift this holiday season, consider giving back and making a donation to Walk It Off Spinal Cord Recovery & Wellness Centre.
At Walk It Off, every donation counts! We put all of the donations received throughout the year directly back into the clinic in the following ways:
To help purchase new equipment,
Facilitate the needs that assist in spinal cord injury recovery, and
Decrease the costs for our clients to participate in our physical therapy program.
This year, Walk It Off is also fundraising for a larger facility! We have been hard at work growing over the last couple years and we are outgrowing our current home and looking to expand into a bigger one – Not that we don't like all being in such close quarters, but we think everyone can agree, it's getting a bit tight!
If you want to donate specifically to someone in the recovery program at Walk It Off, please click here. If the individual you would like to help does not appear in this section, please contact us to make your donation. We also offer gift certificates that can be purchased and put towards that client's account. To donate to a Walk It Off client, please click on the 'Donate' tab on our website and select the Gift Certificate drop down or click here. Everyone is encouraged and welcome to come into Walk It Off to purchase a gift certificate at the front desk and come see what we do!
Please help us continue to help others on their journey of healing and healthy living!
Help someone this holiday season and give back to those living with a SCI the gift of health.
As always we welcome your feedback and your questions. You can connect with us by email or telephone or leave a comment right here on the site. Check out our Facebook and Twitter pages and our YouTube Channel too and join in the conversation!
Happy Holidays and until next time,
Rebecca
http://walkitoffrecovery.org/wp-content/uploads/2013/05/cropped-wiologobanner1.png
0
0
Walk It Off Recovery
http://walkitoffrecovery.org/wp-content/uploads/2013/05/cropped-wiologobanner1.png
Walk It Off Recovery
2015-12-09 10:47:16
2016-02-16 09:45:00
December Donations to Walk it Off