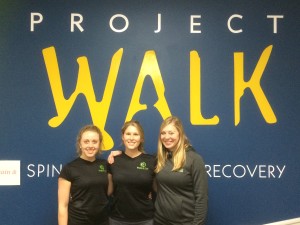 As many of you know, our SCI Recovery Trainers, Taylor, Alyssa and Rebecca, went down to Orlando for the last week of January to visit our friends at Project Walk!  If you are unaware of Walk It Off's origin, Heather and Kevin went down to Project Walk in 2009 shortly after Kevin's accident.  While at Project Walk, they were amazed by the innovative physical therapy Kevin received that was focused specifically on spinal cord injury recovery.  After their time at Project Walk, Heather and Kevin decided this special type of therapy needed to be available in Canada and that's how Walk It Off was born.
Over the years, Walk It Off has maintained a special relationship with Project Walk Orlando.  Heather and Kevin have continued to visit Project Walk Orlando over the years to experience their therapy techniques; not to mention getting a small reprieve from the Canadian winters in sunny Orlando.  This year, the SCI Recovery Trainers were the lucky ones heading down to Project Walk Orlando to experience and learn first hand all about the exciting sessions happening there!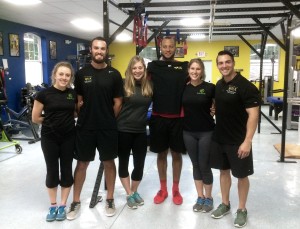 The Project Walk Orlando experience was above and beyond what our trainers had hoped for!  The staff and clients are exceptional.  Their staff is professional, knowledgeable and extremely welcoming.  The clients at Project Walk Orlando were all very friendly, hard working and inspiring.  We had a great week in Orlando working beside their trainers and could have easily spent several weeks there continuing to learn from them. From our trip we gained new knowledge on how to use certain pieces of equipment we previously had not been using to their full potential, new setups for exercises, a different approach to assisting exercises and a new philosophy surrounding spasms and tone.
Now that we are back at Walk It Off, our clients who have been for sessions can attest to many new exercises and a new attitude and approach to our training sessions.  We are working hard at bringing ingenuity to our sessions through new gait training, core, and load bearing modalities. We are also working on integrating a "hands-off" approach into some exercises; encouraging the client to be more independent and think through movements for themselves.
Excitement is building during this new phase for Walk It Off!  We have been working hard as a whole team to make Walk It Off the best it can be to assist every one of our clients in their journey to recovery and total wellness.  We feel that this trip down to Orlando has given us a revival and influx of new ideas that we can't wait to try out with you!
As always we welcome your feedback and your questions. You can connect with us by email or telephone or leave a comment right here on the site. Check out our Facebook and Twitter pages and our YouTube Channel too and join in the conversation!
See you at the gym,
Rebecca and Taylor
SCI Recovery Trainers
http://walkitoffrecovery.org/wp-content/uploads/2013/05/cropped-wiologobanner1.png
0
0
Walk It Off Recovery
http://walkitoffrecovery.org/wp-content/uploads/2013/05/cropped-wiologobanner1.png
Walk It Off Recovery
2016-02-16 09:49:31
2016-03-11 15:48:50
Walk It Off Visits Project Walk Orlando!