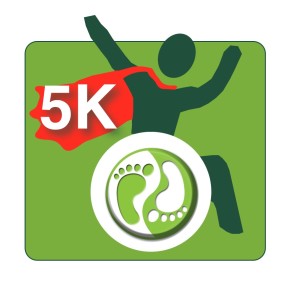 The 6th Annual 5 km Run-Walk-&-Roll for Spinal Cord Injury Recovery at Ferry Lake on May 28th in Newmarket is quickly approaching!
Sunday, May 28th is just around the corner and all of our clients at Walk It Off are training hard to get prepared for the main event.  We're working on their strength and endurance to make sure they are ready for what awaits them on the course.  And so they have enough energy for the pancake breakfast and other fun activities we have lined up!
Remember, this 5K is Super Hero Themed, so make sure to bring your cape!
Walk It Off Clients Have Been Training Hard
Everyone has been working incredibly hard during their training sessions; many wheeling outside, up and down the sloped driveways, putting some kilometres on the road and working on upper body and core strengthening.
In addition to all that, this month we are excited to announce that our in-clinic monthly challenge was designed to help our clients prepare for what they might run into out on the 5 km course!
Client's Monthly Challenge
This month's challenge is for each client to see how many lengths of the Walk It Off facility they can complete in 3 minutes…but there's a catch! They have to do those lengths towing a 45 pound plate. Yes, that's right, we said FORTY-FIVE pounds!
This challenge was designed to test our clients' upper body strength and muscular endurance.
We have been encouraging and implementing specialized exercises in training sessions to help our clients prepare for the 5 km race at Ferry Lake for the last few months. This month's challenge is putting that training to the test! The challenge was specifically designed to be only three minutes long because we want it to be an appropriate amount of time that our client's can push and give 100% for the whole time. We are hoping the training from this challenge will help our clients give that extra push to the finish line at the end of the 5 km or help them easily climb a hill out on the course.
Here are some photos of our clients getting ready and training for the event. Remember these faces, they are sure to be some of the fiercest competitors at the 5 km!
Happy training and we can't wait to see you all there Running, Walking or Wheeling on Sunday May 28th at Ferry Lake in Newmarket.
There's still time to get involved!  Visit our Race Roster to sign up, or see our Sponsorship Opportunities to have your business showcased at the event.  And you can always donate to support a client's recovery program at Walk It Off.
The event will take place at Fairy Lake in Newmarket on May 28th. We will be updating our Facebook Page, Instagram and the Walk It Off Website to keep you informed on race updates, registration, sponsorship information, and anything else that you may need to know! We are very excited for this year's event and can't wait to see you all out there supporting Walk It Off's Clients in your own superhero costumes!
Hope to see you there!
Walk It Off Staff and Clients
http://walkitoffrecovery.org/wp-content/uploads/2013/05/cropped-wiologobanner1.png
0
0
Walk It Off Recovery
http://walkitoffrecovery.org/wp-content/uploads/2013/05/cropped-wiologobanner1.png
Walk It Off Recovery
2016-05-16 10:49:32
2016-06-04 12:57:59
Getting Ready for the Walk It Off 5KM at Ferry Lake on May 28!