April 19, 1956-May 29, 2016
Funeral service is at Roadhouse and Rose on Main Street in Newmarket at 1:30 pm on Saturday followed by a Celebration of Life at the Holland Landing Community Centre from 3:00 pm to 6:00pm.
It is with great sadness that we announce the passing of one of Walk It Off's loved members, Dave Dieno. On the morning of May 29th, Dave suffered a heart attack and tragically, did not survive.
Dave was a very active member at Walk It Off joining us for therapy sessions four times a week. His absence was strongly felt this week by all those at Walk It Off who worked with him and those who had the pleasure of getting to know him within the facility. Dave was a very social individual at Walk It Off; always offering helpful tips and advice where he could and words of encouragement to other members.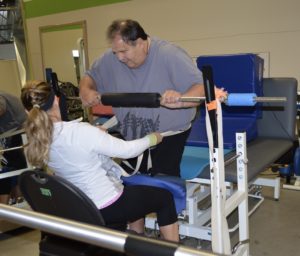 During his time at Walk It Off, Dave had accomplished many things. The differences between when he first started working with our trainers to the last Friday we saw him were tremendous. Dave had not only made impressive physical improvements, to the point he was able to stand with the assistance of a trainer, but also socially and mentally. He undoubtedly gave his best efforts to his trainers and then would immediately ask "what's next"- always eager to keep going and be challenged to get better. Dave's accomplishments are the products of the hard work and perseverance that he brought to each session. Dave had undeniably become, and will always remain, a special member of the Walk It Off family.
Dave's character and motivation to always better himself was inspirational to everyone at our facility. Throughout his sessions he often talked about his friends and the great visits and feasts that they enjoyed. Dave's devotion to his wife, Brenda, was evident when he expressed his care and support towards their many adventures and life together.
Our greatest sympathies and deepest condolences go out to Dave's wife, Brenda, his family and friends. We appreciated our time with him; David will be sorely missed by his trainers and all the staff at Walk It Off.
Family suggests, if desire, donations in lieu of flowers to Walk It Off Spinal Cord Recovery and Wellness Centre.  Please visit our Dave Dieno Memorial Page to donate.
– The Trainers & Staff at Walk It Off
Walk It Off Recovery and Wellness Centre, 1235 Journey's End Circle, Unit 2, Newmarket, Ontario, L3Y 8T7
http://walkitoffrecovery.org/wp-content/uploads/2013/05/cropped-wiologobanner1.png
0
0
Walk It Off Recovery
http://walkitoffrecovery.org/wp-content/uploads/2013/05/cropped-wiologobanner1.png
Walk It Off Recovery
2016-06-04 12:52:42
2016-09-22 08:50:55
In Loving Memory of David Ralph "Dave" Dieno