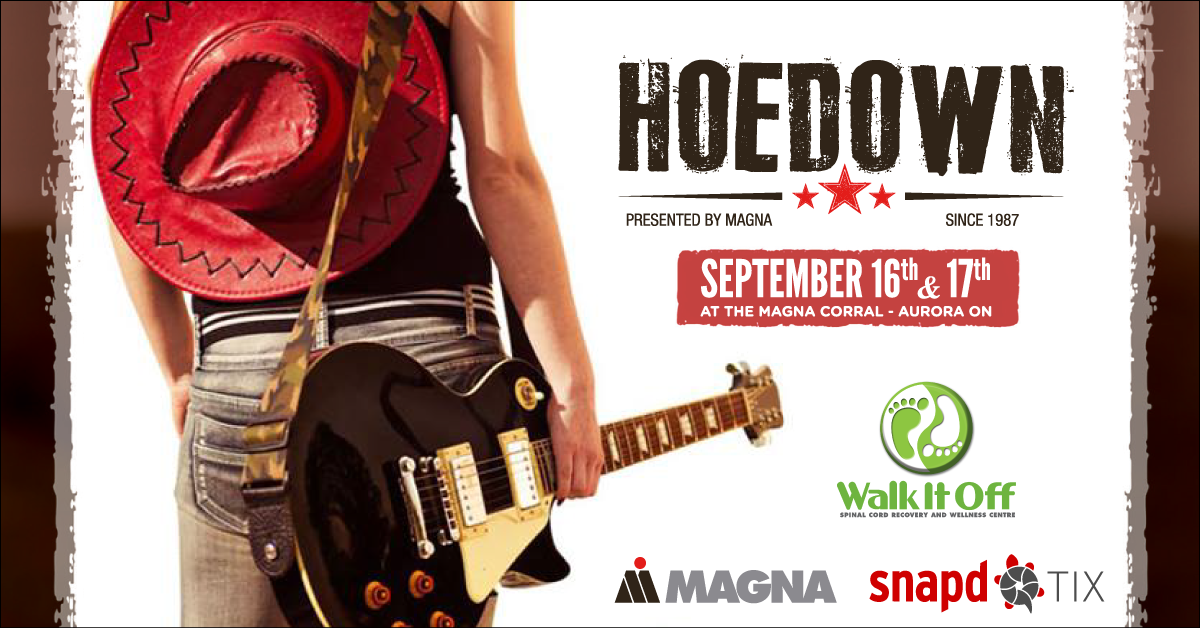 YEEHAW! Walk It Off is thrilled to announce that we are one of the fifteen organizations selected as a recipient for the 28th Annual Magna Hoedown! For those of you who are not familiar with the Magna Hoedown, it is the largest fundraiser in York Region. The Hoedown is a 2-day event, taking place on September 16th and 17th this year, showcasing musical talent, raffle and door prizes, dancing, dinner and beverages, and tons of entertainment. This year's headliners are Alan Doyle (of Great Big Sea) on Friday, Sept.16 and Paul Brandt on Saturday, Sept 17.
Some of the country music star headliners from previous years have been comprised of talents such as Jim Cuddy, Beverly Mahood, Terri Clark, Paul Brandt, and Lonestar, to name a few. In the past, the musical talent has been comprised of local up-and-comers who participate in the 'Hoedown Showdown'. Do you have the talent to contend?!?

Fill out an application on the Hoedown site and compete to be the next county star. Along with spectacular entertainment, the event is known for its delicious Texas style BBQ buffet that is served for dinner both nights. The Hoedown is also renowned for its ability to bring in grand prizes for the door prizes and the Prospector Raffle. The best thing is even if you can't make it to the event, you could still with win in the OLG licensed Prospector's Raffle; this year the raffle prizes are upwards of $100,000!
On top of the entertainment and dinner, the Hoedown is famous for its fundraising capabilities to help local organizations and charities. 100% of the proceeds from raffle ticket sales and event ticket sales are redistributed back to the recipient organizations. In 2015, the Hoedown raised an amazing total of $464,000! We think this is something worth getting excited over, very excited!
As many of you know, Walk It Off is a Non-Profit Organization and fundraising is integral to our operation. We are very excited about being apart of the Hoedown this year because of what it means for Walk It Off and our clients. Being a part of the Hoedown gives us an opportunity to raise funds that will help us help our clients. With the funds raised from the Hoedown our possibilities are so much more. We will be much closer to achieving our goal of relocating to a larger facility to accommodate our ever-growing client base and need for new equipment to aid in our clients' recovery. It is no mystery to anyone who has been in the facility recently that we are starting to get a little cramped; not that we don't like being close with everyone but we need our workout space!
A larger facility and specialized equipment is just the tip of the iceberg for improvements Walk It Off will use the Hoedown funds for. Walk It Off is accountable for selling at least 50 event tickets for both Friday and Saturday night and at least 1,500 raffle tickets. If you are interested in supporting Walk It Off and attending the Hoedown or participating in the raffle to help us reach our goal, please contact us. You also have the option of purchasing your event ticket online. But don't wait; Event Tickets are selling fast.
The 2016 Magna Hoedown promises to be a year for the books and we are so excited to be apart of it and can only hope you will be too!
For more information on the Magna Hoedown visit Hoedown.ca
As always we welcome your feedback and your questions. You can connect with us by email or telephone or leave a comment right here on the site. Check out our Facebook and Twitter pages and our YouTube Channel too and join in the conversation!
Hope to see you at the Hoedown!
– WIO Staff
http://walkitoffrecovery.org/wp-content/uploads/2013/05/cropped-wiologobanner1.png
0
0
Walk It Off Recovery
http://walkitoffrecovery.org/wp-content/uploads/2013/05/cropped-wiologobanner1.png
Walk It Off Recovery
2016-07-14 08:44:43
2016-09-22 08:49:59
Walk It Off is a Proud Recipient of the 2016 Magna Hoedown