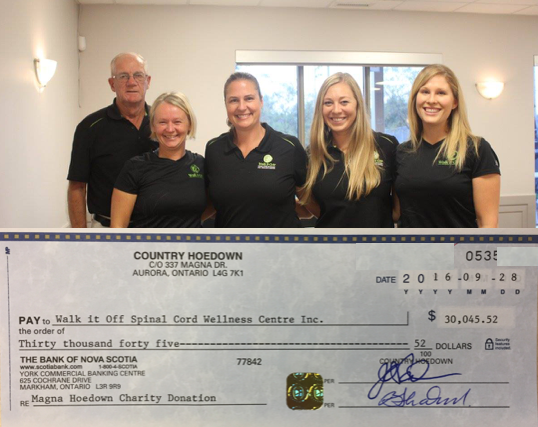 On behalf of Walk It Off, we would like to thank Manga International for its outstanding philanthropy.  The 2016 Magna Hoedown provided a magnificent weekend of music and fun for the community, and a fantastic fundraising platform for local charities and not-for-profit organizations on September 16th and 17th .
$497,000 raised at the 2016 Magna Hoedown!
The Walk It Off community has been working tirelessly since day one in May when we were selected as one of the 15 recipient organizations of this year's Hoedown.  Our clients, staff, and supporters were working around the clock to ensure Walk It Off met the Hoedown sales requirements of raffle and event tickets and volunteer responsibilities. We had over 30 volunteers at the event to help make the weekend a huge success.  As a result of all the hard work from our Walk It Off community, and the other chosen organizations, the event raised an astonishing $497,000!
Magna Hoedown Appreciation Evening
Magna hosted an appreciation evening for the 15 recipient organizations on October 6th.  At this event, all the organizations were presented with their portion of the funds.  Walk It Off was presented with a cheque in the amount of $30,045.52!  Amazing!
Plans for the Funds
Before Walk It Off submitted our application to the Hoedown in April, we had already dreamed up quite the laundry list of wishes to improve our facility.  Now with the funds raised from the Hoedown, we have the means to make some of those wishes a reality!
We would like to use our Hoedown funds to make our facility more accessible.  We hope to move into a larger facility in the future and will continue to fundraise to make this move possible.  In the short term, we intend to put an automatic door at the entrance of the facility to make access easier for our clients in wheelchairs and assistive walking aids.
Our second need was to acquire equipment and accessories for our smaller and paediatric clients.  Various sized ambulatory harnesses have been on our list for quite a while; having harnesses that fit each client will allow for more clients to use our partial bodyweight supported gait training devices with comfort and ease.
Expanding our practice
Walk It Off has expanded our practice to include all neurological disorders.  Though we specialize in Spinal Cord Injury (SCI) recovery, we now work with those who have suffered Acquired Brain Injuries (ABI), strokes, Multiple Sclerosis (MS), and Cerebral Palsy (CP), just to name a few.  A portion of the funds will also be used for staff development as we want to keep our programs cutting edge and ensure we provide the best service we can to all our clients!
Thank you again to everyone who helped make Walk It Off's participation in the 2016 Magna Hoedown such a success!
As always we welcome your feedback and your questions. You can connect with us by email or telephone or leave a comment right here on the site. Check out our Facebook and Twitter pages and our YouTube Channel too and join in the conversation!
Thanks again!
– WIO Staff
http://walkitoffrecovery.org/wp-content/uploads/2016/10/Hoedown-Pic-with-chq.png
427
538
Walk It Off Recovery
http://walkitoffrecovery.org/wp-content/uploads/2013/05/cropped-wiologobanner1.png
Walk It Off Recovery
2016-10-27 10:05:39
2017-10-29 16:01:43
A Huge Thank You to Magna International!