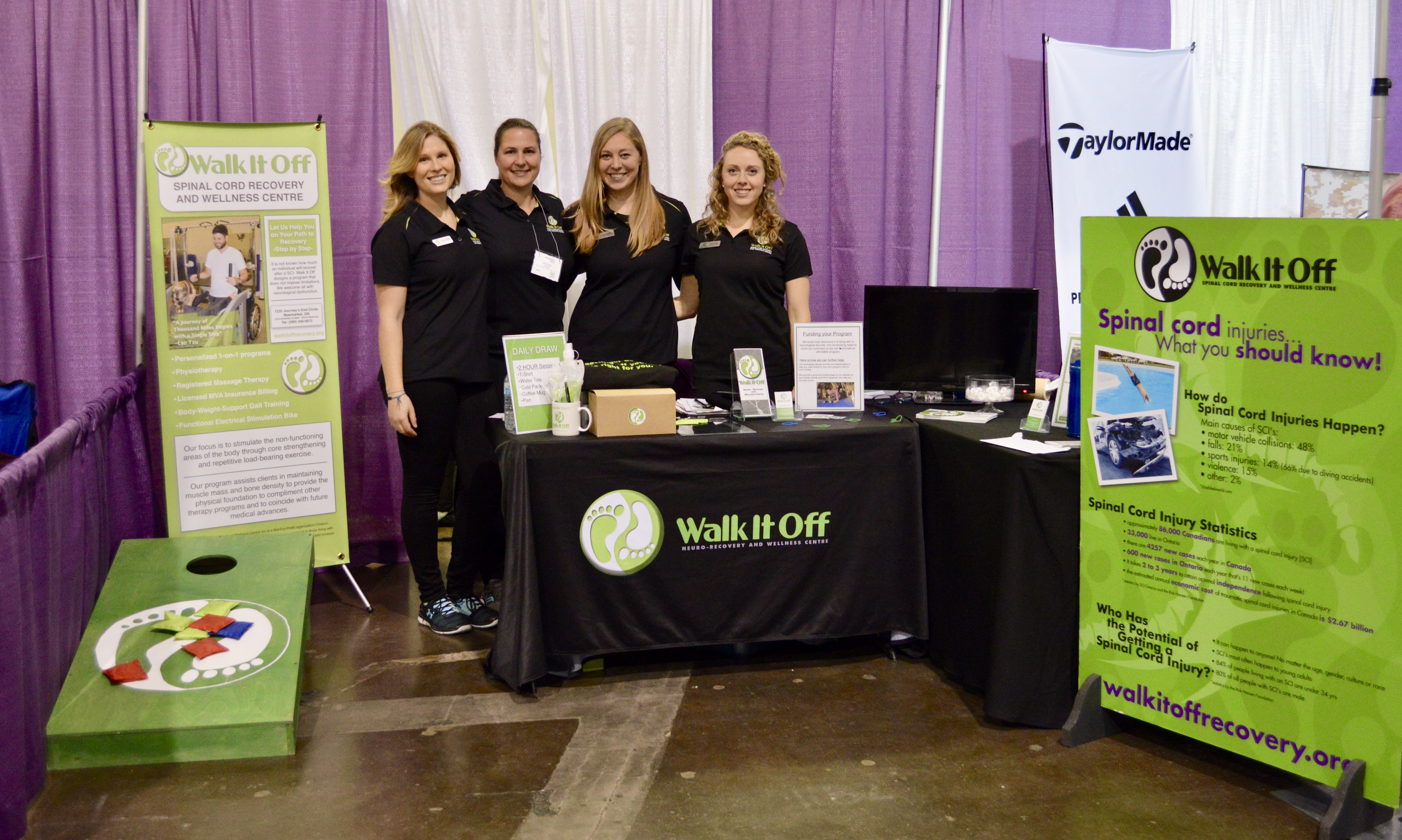 As most of you know, Walk It Off (WIO) participated in the first annual Abilities Expo at the International Centre in Mississauga the weekend of Jan 20-22. The Abilities Expo is a great venue which brings together service and retail providers, the latest technology in adaptation and accessibility, and leisure information all under one roof.
The Expo is geared for individuals living with all types of disabilities – physical, cognitive and learning; and hearing and sight impairment.  In past years, the Expo has visited major American cities such as Boston, Las Vegas, Chicago and Houston. 2017 is the first year the Abilities Expo has come to Canada and we were ecstatic to be a part of it!
A Welcoming Experience
From the moment you arrived in the parking lot, you were welcomed with enthusiasm from the many volunteers looking to ensure you had the most enjoyable experience. Upon entering the International Centre, every attendee received a name badge and an Abilities Expo bag to collect all the new and exciting information.
Throughout the day, many entertaining and inviting events unfolded, such as wheelchair dance lessons, a pick-up wheelchair rugby game, Canada Guide Dog seminar…to name a few. The energy was upbeat and positive all day through, especially as Walk It Off networked with the many incredible businesses that participated in the first every event in Canada.
Integrating with the Accessible Community
The Abilities Expo was an incredible opportunity to become more integrated within the accessible community. We met many individuals and companies that are advocating for a more accessible world, and creating new, innovative opportunities. From sports equipment, athletic/leisure groups to adaptive vehicles and motorized wheelchair attachments, the Abilities Expo had something for everyone.
WIO Workshop Presenter
Attendees of the event were able to browse the different vendors, try and test products, ask questions and inquire about the businesses they were interested in.
Walk It Off had the pleasure of being a vendor, as well as a workshop presenter. Those who stopped by the Walk It Off booth were absorbed by our video that shows client accomplishments, and were interested in the method of which we deliver our therapy.
They found that working with the paralyzed areas of the body to be a different approach, yet a great idea to achieve neurological recovery (and so do we)! WIO had people interested who not only are living or affected by spinal cord injuries, but other neurological disorders as well.
As a workshop presenter, WIO had the opportunity to go more in depth about the program specifics that make WIO different and unique. Our founder, Heather, spoke on why there was such a need for this intensive therapy program here in Canada. She was personally touched by the positive impact it had on her husband when they were in the USA receiving this treatment and saw the great value of establishing a clinic that emphasized physical activity to promote neuro-recovery.
Celebrating Our Client's Accomplishments
Throughout the workshop there was cheering and many smiles as we showcased our client's accomplishments. Viewers at the end of the workshop expressed interest in coming to WIO to seeing firsthand how we train and interact with our clients.
Spreading the WIO Mission
A thank you to the professionals and public alike who provided feedback saying that a clinic like ours is needed within the rehabilitation world and what we are doing is making such a big difference to everyone.
All in all, Walk It Off was honoured to be part of the first ever Abilities Expo in 2017. We were inspired by the many services and avenues to create a more accessible world, with emphasis on independence and confidence. Our clients who attended the event shared in the positivity and cannot wait for next year's 2018 Abilities Expo!
As always we welcome your feedback and your questions. You can connect with us by email or telephone or leave a comment right here on the site. Check out our Facebook and Twitter pages and our YouTube Channel too and join in the conversation!
Thanks again!
– WIO Staff
http://walkitoffrecovery.org/wp-content/uploads/2017/02/wio-abilities-expo-pic.jpeg
3324
5548
Walk It Off Recovery
http://walkitoffrecovery.org/wp-content/uploads/2013/05/cropped-wiologobanner1.png
Walk It Off Recovery
2017-02-23 10:24:54
2017-10-29 16:01:18
Walk It Off at the 2017 Abilities Expo Toronto