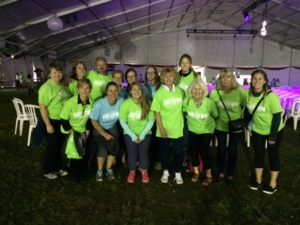 The weekend we've all been waiting for has come and gone. Another Hoedown has past, and what a weekend it was! This past September 15th and 16th marked the 29th annual Magna Hoedown. A BIG thank you to the @MagnaHoedown and those who came out this past weekend to support Walk It Off and the other 19 local charities participating. Like previous years, the food, entertainment and overall atmosphere was nothing short of amazing.
On Friday night, you would have had the opportunity to listen to some amazing young local talent during the Hoedown Showdown. It must have been a tough night for the judges because I know we were impressed with each and every one of the competitors, it must have been a difficult task to choose a winner. In the end it was 16 year old John Anderson from Barrie, Ontario that took home the Grand Prize valued at over $20, 000! To learn more about John click here.
Friday night was also a night to showcase 2016 Showdown winner Mac Shepherd and Canadian artist and Headliner Chad Brownlee who did not disappoint. You may have even seen our volunteers from all corners of the venue whether it be in the Junction or the Environmental Helpers jamming out all evening.
On Saturday night, the amazing line-up was The James Barker Band, Dani Strong and John Anderson who opened for Tom Cochrane with Red Rider. Another great night with great music and amazing food. The Texas- Style BBQ Dinner had a range of variety from pulled pork sandwiches, chicken breasts, chilli and salads; made you want to go back for seconds.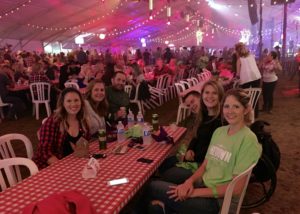 Our volunteers really outdid themselves with the effort they put into their tasks. Walk It Off sold a total of 141 books of raffle tickets this year; 41 more than our set goal! At the event we were able to sell 26 books! Unfortunately, the winning ticket was not amongst our allotment of tickets sold. Better luck next year!
A special thank you to Volunteer Coordinator and Walk It Off Board Member Wally Kemp, for finding and organizing volunteers to represent Walk It Off at the Hoedown. You made a big task look easy! Thank you to those from the Walk It Off community who took the initiative to help us with the big task of selling event and raffle tickets; and to those who took time out of their weekend to volunteer at the event itself. You may have met some of our amazing volunteers throughout the weekend roaming around selling tickets, stationed the Junction area, cleaning up or setting up. Cumulatively, all efforts to help an event run smoothly, and for that we are grateful.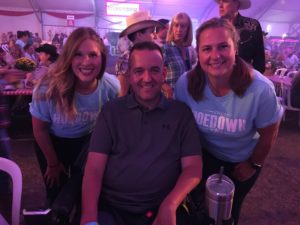 Thank You Magna!
In addition, we would like to congratulate the the wonderful coordinating Staff at Neighbourhood Network and our Volunteer coordinator, Tracey Scott for another successful year for the Magna Hoedown. Thank you for putting in countless hours to support your local community and being available for each individual charity throughout this process.
This year's event was able to raise $534, 000 for twenty local charities serving York Region; and we couldn't have done it without the support of all of you! This is our second year participating in the Hoedown and we couldn't be happier!
Stay tuned for the big reveal of our portion of the proceeds and how we will put it to use!
Walk It Off is more than a clinic, it is a community. It is at times like this when we are so proud of how we come together in order to continue to improve our services and equipment. We are thankful for the community that has developed within Walk It Off that continues to support our efforts to provide an affordable cutting edge services to those living with neurological disorders.
You can connect with us by email or telephone or leave a comment right here on the site. Check out our Facebook and Twitter pages and our YouTube Channel too and join in the conversation!
Yeehaw!
Kristina Georgiopoulos
Walk It Off Facility Assistant
http://walkitoffrecovery.org/wp-content/uploads/2017/09/IMG_0996.jpg
480
640
Walk It Off Recovery
http://walkitoffrecovery.org/wp-content/uploads/2013/05/cropped-wiologobanner1.png
Walk It Off Recovery
2017-09-21 10:00:21
2017-10-29 13:04:35
Another Successful Year at the 29th Magna Hoedown!