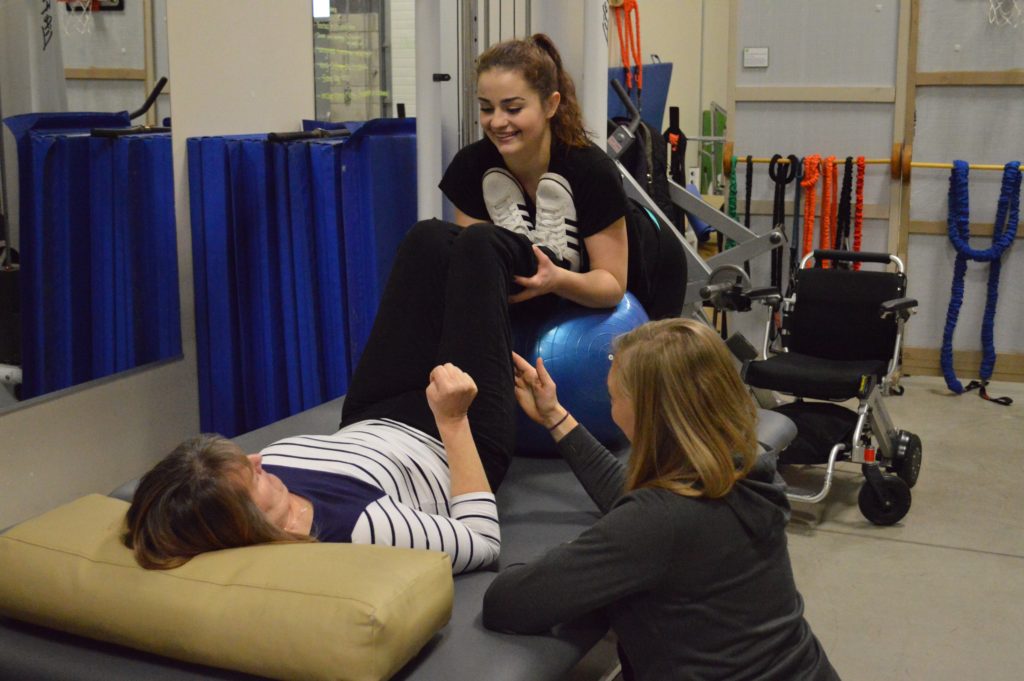 Last week we were invited to attend the University of Guelph- Humber Kinesiology Networking Fair, at the Humber College Campus. This was our second time attending this annual event. It is here where Kinesiology students studying in their third or fourth year are invited to network with various employers in order to make connections, and search for career or placement opportunities. We were pleasantly surprised to learn about another program within Humber College that benefits from this fair.
The Exercise Science & Lifestyle Management program is a graduate certificate program for students who have completed a university undergraduate degree in related fields. We were unfamiliar with this program, but were eager to learn more about its students. Placement opportunities are also a feature inter program to further their knowledge of health and therapeutic industries.
As a Not-For-Profit organization we acknowledge the importance of community involvement and making lasting connections with potential clients as well as members of our community. Educating our community about our clientele while getting our message out into the community, is one of our goals as an organization. At Walk It Off, we aim to improve the quality of life and increase independence of our clients through exercise-based recovery. Our facility provides recovery treatment plans for those with spinal cord injuries and neurological conditions. We also aim to educate and support this community outside of our facility.
Meeting the Students:
Before the fair, students were provided with strategies and information on how to network with industry representatives. Networking is an important skill that develops over time, and is crucial when looking to build a career. It is a unique experience to be able to connect with students that are entering a field of mutual interest. There are students from a variety of backgrounds, with a variety of interests. We met with a number of individuals, ranging from students who have interest in Neurological recovery and sought out our booth; as well as some students who had not considered us before, but were eager to learn what we had to offer.
What do placements at Walk IT Off Look Like?
Here at Walk It Off, we enjoy taking opportunities such as these to grow as a facility by educating our community about our goals and mission as an organization. As a volunteer or student at Walk It Off, you will be provided with the opportunity to learn all aspects of a clinic environment. Placements within our facility allow students and volunteers to be involved in a variety of tasks both administrative and hands on by assisting with client sessions.
As a volunteer or student, it is rare to get practical experience where you are able to learn and grow by getting involved. We are firm believers in the idea that getting involved and having the opportunity to be hands on will provide better lasting knowledge. Getting hands on through all aspects of a clinic will not only help with future opportunities but important for their future careers.
We advertise certain requirements when it comes to the type of individual that we'd like to attract.
If you are a person who has:
A passion for working with those with different abilities
Interest in Neurological Recovery
Interest in Exercise Education
Is In Good Physical Condition
Then it sounds like Walk It Off would be an excellent placement of you!
A Message from Our President
During the event we were asked many questions regarding the specific roles of the position, and general questions about who we are as an organization. But we were also frequently asked specifically what we look for in a candidate looking to be involved at Walk It Off. "Your experience in the past has brought you to us. I want to know where you want to go. We can only point you in the direction of your interest. It is up to you show initiative and take advantage of our environment to receive a valuable leaning experience." – Heather – President, Walk It Off.
Walk It Off Networking Tips
1. Show Initiative, and Prepare
Learn about the organization you wish to do a placement in, before you meet them.
Prepare questions that pertain to that specific organization.
2. Eagerness to Learn
Show genuine interest in what you can learn FROM the organization.
Your knowledge is important, but showing that you want to learn is even more so.
3. Personable Connection
Friendly Smile
Eye Contact
Relatable Conversation
Make yourself memorable
Networking Strategies by University of Guelph-Humber
The University of Guelph Humber provides a Career Services page on their website. It is definitely a wealth of knowledge when looking for guidelines surrounding networking strategies. They discuss topics from what networking is, to the "Do's" and "Don'ts" of networking. To learn more about Guelph-Humber's tips and strategies for "Networking for Success", click here.
We wish all placement students, no matter your field, all the best in your future endeavours.
You can connect with us by email or telephone or leave a comment right here on the site. Check out our Facebook and Twitter pages and our YouTube Channel too and join in the conversation!
All the Staff at Walk It Off
http://walkitoffrecovery.org/wp-content/uploads/2017/10/DSC_1215-e1508354798632.jpeg
665
1000
Walk It Off Recovery
http://walkitoffrecovery.org/wp-content/uploads/2013/05/cropped-wiologobanner1.png
Walk It Off Recovery
2017-10-18 15:32:55
2017-10-29 16:12:55
Kinesiology Networking Fair at the University of Guelph - Humber