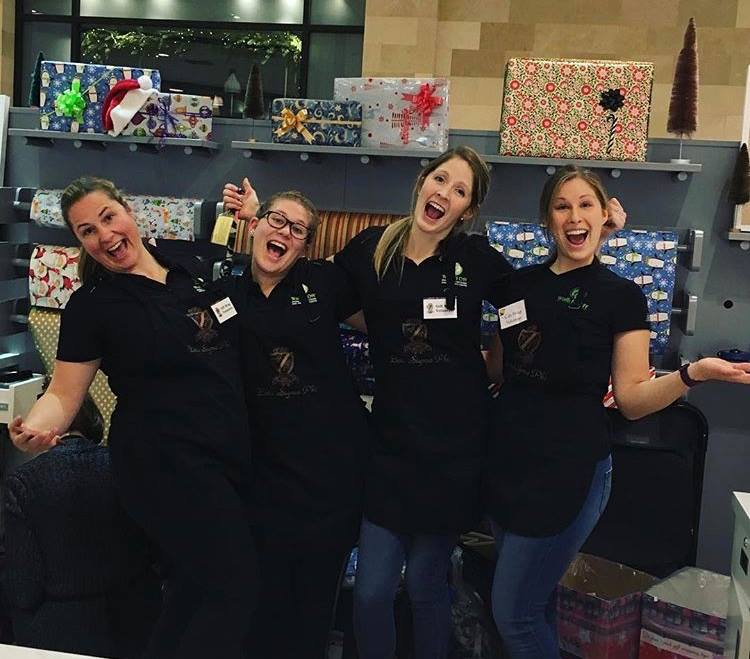 The last few months brought a great finale for the end of 2017 with some of our annual fundraisers. As a Not-For-Profit organization, we rely on regular fundraisers to continue to provide top quality services and cutting edge programs for our clients. Without our wonderful supporters we would not be able to provide all of this. Here is a recap of 2017 at WIO!
8th Annual Scarf Auction Raised $1200!
This year marked the 8th Annual Scarf Auction! We would like to extend a big thank you to all of our supporters who donated some beautiful creations to this year's inventory. Some of the creativity and skill blew us away! For those who are unfamiliar with this fundraiser, it is quite the competitive event. We receive donated creations throughout the fall and post pictures on the 'Walk It Off Scarf Auction' Facebook Group where our supporters can bid for their favourites. This year we were able to raise $1200!
Kevin Mills Received a Commemorative Canada 150 Medal
This November, in celebration of Canada's 150th anniversary, Walk It Off founder, Kevin Mills received a commemorative Canada 150 metal. M.P Kyle Peterson awarded this metal to members of our community with outstanding volunteer contributions in the community.
Special Thank You to the Kinsmen Club of York Region
We would like to extend a big thank you to our friends from the Kinsmen Club of York Region. The Kinsmen Club is a non-profit, volunteer organization that supports the local Newmarket, Aurora, Bradford and East Gwillimbury area through various community programs. They donated $5000 in order to help us purchase important equipment for our facility! They have been a great partner in the past and we appreciate their continued support.
A Warm Thank You to Beta Sigma Phi Sorority
We would also like to thank another community partner for their continued support. This holiday season, the women from the Beta Sigma Phi sorority had selected us for a fourth year to participate in their annual Gift Wrapping Fundraiser. The Sorority organizes a gift wrap booth at the Upper Canada Mall, where shoppers can get all their presents wrapped in exchange for a donation.
All proceeds are divided between the chosen non-profit organization. This year, in addition to ourselves, this event supported the Southlake Hospital (specifically the Cardiac Program), Kerry's Place Autism Services, Doane House Hospice (Cancer Resource), Cedar Centre (formerly York Region Abuse Program) and the Women's Centre of York Region.
WIO Raised $1300 for the York Region Victim Services Holiday Assistance Program 2017
This winter, we also had the opportunity to work with York Region Victim Services and their
Holiday Assistance Program 2017. This November, one of our own clients started volunteering their time with this organization, and brought this program to our attention. Walk It Off was able to raise $1300 to help out a local family. With these funds we were able to get everything on their holiday wish list and then some!
This Year, With Your Help, We Raised $39,900!
With your help, we were able to raise $39,900 throughout the year! We are so happy to have such a strong community within Walk It Off. It is with your help that we are able to make an impact by helping so many people in their recovery efforts, within our organization, and in the outside community.
This year we set out to raise funds for specific needs from equipment to enhancing our program through education and facility improvements. We are looking to purchase a new Functional Electrical Stimulation Unit and the NuStep recumbent cross-trainer in the near future and will be scouting our educational course for staff to enhance their skills.
The staff here at Walk It Off wish you a safe New Year filled with hope, happiness and health.
You can connect with us by email or telephone or leave a comment right here on the site. Check out our Facebook and Twitter pages and our YouTube Channel too and join in the conversation!
See you in 2018!
All the Staff at Walk It Off
http://walkitoffrecovery.org/wp-content/uploads/2017/12/Gift-wrap.jpg
659
750
Walk It Off Recovery
http://walkitoffrecovery.org/wp-content/uploads/2013/05/cropped-wiologobanner1.png
Walk It Off Recovery
2017-12-29 09:55:37
2017-12-29 09:55:37
Happy New Year from All of Us at Walk It Off