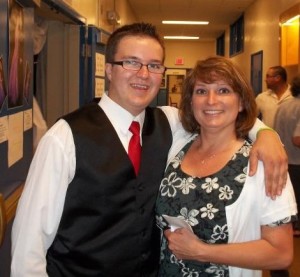 Christopher Rice – C7 ASIA B incomplete tetraplegia
Hi, I'm Chris. In the summer of 2012 I was swimming in our backyard pool when I slipped on a pool toy and landed headfirst in the shallow end of our 4 feet pool. The front of my C7 vertebra was crushed and after nearly drowning, I was sent to Southlake and then Sunnybrook Hospital for emergency surgery. After 2 weeks in the CCU/ICU, I was transferred to Lyndhurst Spinal Rehab Centre for 5 months.  I was told I would never walk again.
The road to recovery has been long but I can now walk short distances with assistance and have regained use of almost my whole body. Without the incredible support from my family and friends I would not have made it this far.
I now volunteer with SCI Ontario as a peer support mentor to help patients come to terms with their injury and learn how to overcome paralysis so they can get back to their life. I am continuing my studies through distance education working toward a Bachelor of Science.
Make a donation to assist Chris with his treatment program at Walk it Off Recovery.