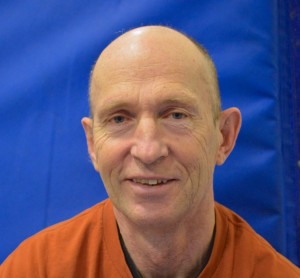 Edward Chamot – T6-7 Asia B (incomplete) Paraplegia
Hello, my name is Ed. I am a father of two and a grandfather of two as well as a retired firefighter. After retiring and having finished eight Iron Man races as well as many shorter triathlons, I decided to continue on with a very active lifestyle. This time I would include something that due to responsibilities time and financial constraints, I was never able to do enough of-Skiing. I've always loved the mountains and thought someday, with the right circumstances, I would relocate and pursue something that I have loved since I was a young man.
This proved to be my downfall (pun not intended). A few weeks after starting my adventure I fell with catastrophic results. Having slid and tumbled for an estimated two hundred feet I hit a tree and fell another one hundred feet. I was unconscious for most of this as the initial impact with the hill resulted in a concussion. This proved to be the least of my injuries. Eventually, I sustained a dislocation of my spine as well as two fractured vertebrae, almost all of the ribs on my left side, as well as some on the right were broken, a pneumothorax and a hemothorax. The pain began upon regaining consciousness and has been, in various locations, types and intensities, a constant aspect of my daily life.
Five weeks at Vancouver General, a week at St. Mike's in Toronto and then up to Lyndhurst for over three months. Since then I've lived on my own attempting to navigate the every day world with varying degrees of success.
I'm in training again; not for the Ironman this time but to become whole again in what ever way that might be. Hope is something precious. The assistance I'm getting from family, friends, and my therapists helps to keep it alive.
Thanks
Make a donation to assist Ed with his treatment program at Walk it Off Recovery.