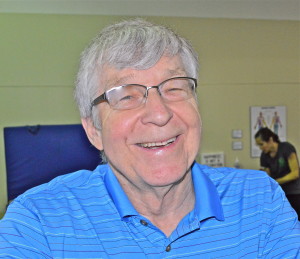 Edward Suprunovich – Osteomyelitis and Discitis T8 Incomplete
My name is Ed. I was relatively healthy and still working as a substitute teacher for both elementary and secondary students as well as a residential counsellor for the homeless prior to my disability.
My spinal cord problems began after I experienced upper back pain around the middle of October 2011. Initially, I went to walk-in clinics where I received prescriptions for pain and anti-inflammatory medication. There was very little relief and I ended up in the emergency department at South Lake Regional Health Centre, where the initial diagnosed was pneumonia and urinary tract infection. Consequently, I was put on antibiotics spending a couple of weeks in the hospital before returning home. After nine days, I had a follow up appointment, at which time blood samples were taken. The hospital called a couple of hours later asking me to get back to the ER because my haemoglobin count was very low. I was given blood transfusions and tests to locate where I had been bleeding, which was not determined. I had walked into the hospital and some three days later became paralyzed.
Eventually, I was diagnosed with osteomyelitis and discitis on December 2, 2011 after an MRI the previous day. This was caused by an infection (stapholococcus aureus), which seeded in my spine at C7-T8. After another two months at South Lake, I was transferred to Lyndhurst Rehabilitation Centre, where I spent four months before returning home.
In October 2012, I became aware of the Walk It Off program and began the next month with 2 hour weekly sessions. At the same time I was still going to the Lyndhurst outpatient program a couple of days a week.
My progress has been slow and continuous with more movement in my legs and therefore, better transfers.
I've been blessed by the continuous support from my family, friends, colleagues, associates and caregivers.
Make a donation to assist Ed with his treatment program at Walk it Off Recovery.