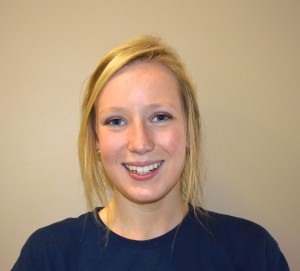 Hi! I'm Natalie. I am completing an internship for the summer as the new SCI Facility Assistant here at Walk It Off Spinal Cord Recovery and Wellness Centre (WIO). My placement requirements are to help the SCI Recovery Trainers during sessions with the clients and assist with administrative duties.
I was born in Aurora and lived there until I was five years old when my family moved to New Hampshire, United States. I spent 10 years in New Hampshire growing up in the middle of the woods but still traveling back to Canada multiple times a year to visit my family. Then my family moved to Shanghai, China where I went to high school at an international school. In China I learned a lot about Asian culture, how to speak Mandarin, and traveled to four Southeast Asian countries plus Australia!
I just finished my first year at Cal Poly San Luis Obispo, California where I am a kinesiology major. Once I finish my degree I plan to go to grad school to become a physical therapist.
I previously worked for Central Coast Hand Rehabilitation Center as an occupational therapy aide. There I learned how to properly assist therapists, interact with patients, and the ins and outs of running a medical office. I also volunteer with a club at my school called Polyfit. In Polyfit we run body composition tests on clients. I learned how to take blood pressure, skinfold tests, and how to use a hydrostatic tank.
Growing up I played softball, basketball, track and field, and swim. My main sport is volleyball. In college, I fell in love with long distance running and have done a half marathon, a sprint triathlon, and finished my first marathon in April! By this time next year I will hopefully have completed two more half marathons and an olympic distance triathlon.
Working at Walk It Off has been amazing so far. I am grateful that Walk It Off offers placement opportunities and accepts volunteers; I have the opportunity to learn about this industry and experience working with individuals with neurological disabilities.
Both the clients and staff are extremely friendly and helpful and I cannot wait to see what I learn in the future!
I look forward to meeting you at the Centre!  As always we welcome your feedback and your questions. You can connect with us by email or telephone or leave a comment right here on the site. Check out our Facebook and Twitter pages and our YouTube Channel too and join in the conversation!
Natalie
SCI Facility Assistant
http://walkitoffrecovery.org/wp-content/uploads/2013/05/cropped-wiologobanner1.png
0
0
Walk It Off Recovery
http://walkitoffrecovery.org/wp-content/uploads/2013/05/cropped-wiologobanner1.png
Walk It Off Recovery
2015-07-14 09:25:58
2015-09-24 09:23:49
Walk it Off Spinal Cord Recovery Centre Welcomes New Intern