Here at Walk it Off, we are blessed to have very talented, caring and dedicated professionals to work with our clients everyday…
Rebecca Wheeler R.Kin, BKin Hon
Registered Kinesiologist and Lead Trainer
Staff/Student Educator
Hello, I'm Rebecca. I am a Registered Kinesiologist with the College of Kinesiologists of Ontario (COKO). I have been working with Walk It Off as a Neuro Recovery Trainer since 2014 and I love coming to work every day!
Before Walk It Off, I graduated from the University of Ottawa with an Honours Bachelor in Human Kinetics and a minor in Psychology. During my undergraduate studies, I completed my placement with the City of Ottawa Post-Stroke and Acquired Brain Injury programs. It was this experience that lead me to pursue a career in neurological rehabilitation which lead me to Walk It Off! My placement provided me valuable experience working with individuals living with a variety of physical and cognitive disabilities, including hemiplegia and aphasia.
In the spring of 2017, I completed my certificate of Disability Management through Dalhousie University. This certificate provided me with knowledge on the return-to-work processes, workplace accommodations and modifications. In September of 2017, I received certification by OrthoCanada in K-Taping. I am eager to continue learning and am excited to use the skills I have acquired!
In February 2016 I had the opportunity to shadow at Project Walk Orlando for a week. Over the week, I was able to learn about different types of neurological stimulation, gait training, and strength training for individuals living with a wide variety of neurological disorders under the Project Walk philosophy.
I have always loved being active. I grew up playing and coaching competitive soccer and basketball in the Newmarket area. I have recently gotten into mountain biking and hiking which is how I like to spend my free time and in the snowy months, I love skiing! Most importantly, my favourite winter activity is curling with the Walk It Off Sweeping Beauties!
Promoting healthy and active living for all has become my passion! Walk It
Off has given me the greatest platform of all to help individuals on their path
to recovery and wellness.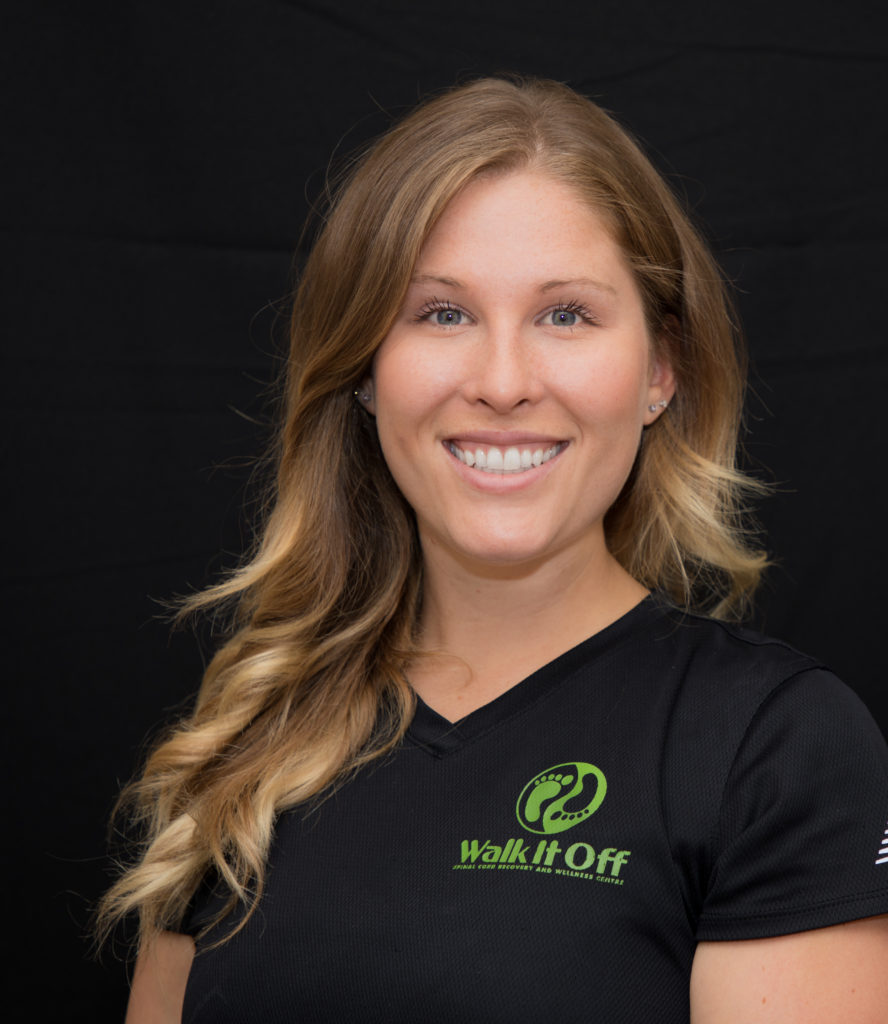 Sharisse Dukhu BPHE, MSc PT
Physiotherapy Resident
My name is Sharisse and I am happy to be starting my physiotherapy residency at a unique rehab facility like Walk It Off.
Recently, I have completed my masters in physiotherapy in Scotland and have thoroughly enjoyed discovering old cities, quirky cafes and hiking in the breath-taking highlands. Being raised in Guyana, living in Toronto, and studying abroad have deepened my appreciation for diversity.
My physiotherapy placements abroad gave me skills and knowledge in the rehabilitation of individuals living with the effects of neurological and multi-system conditions including acute brain injury, stroke, Parkinson's, and multiple sclerosis to name a few. I completed a masters research paper on Person Centeredness (ensures the patient/client is at the centre of care delivered) which has added value to my practice by fuelling my ambition to foster meaningful and personalized experiences for individuals.
Currently, I enjoy paddling as part of a Dragon boat team, participating in yoga, indoor rock climbing and indulging in dark chocolate. I am very passionate about strength training so Walk It Off feels like the perfect fit for me and hopefully it can be the fit for you! I look forward to hearing your stories and sharing in your rehab journey!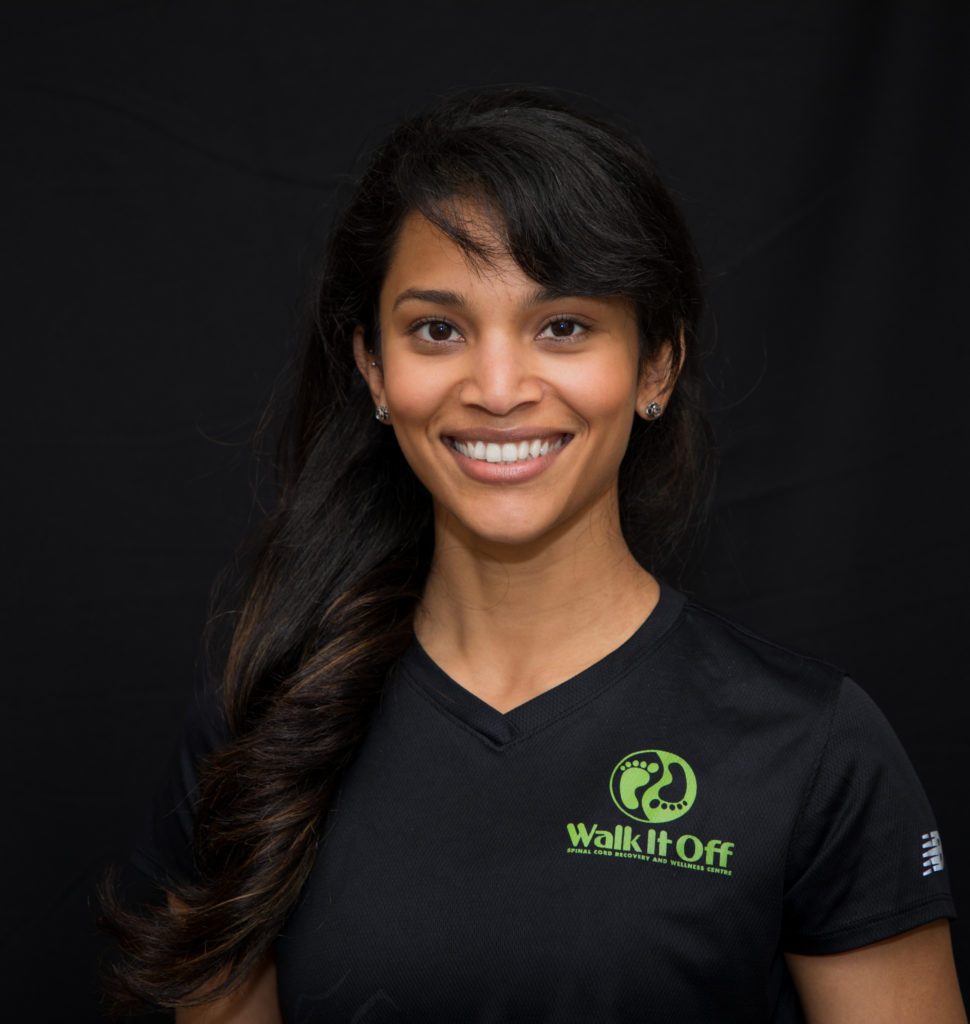 Jessica Little BSc KIN, MSc PT
Neuro-Recovery Trainer
Hi Everyone! My name is Jessica Little and I recently graduated from University College of Dublin, Ireland with my Masters in Physiotherapy. I gained valuable knowledge and experience working with a variety of patients. I worked in all types of physiotherapy settings and such as inpatient and out-patient orthopaedics, athletes, osteoporosis group classes, cardiovascular in-patient, cardiac rehab, long term care, community health promotion and stroke rehabilitation.
Previously, I completed my BSc Kinesiology: Exercises Science from University of New Hampshire, and received a full- athletic scholarship to swim on their NCAA division I program. During my time at UNH, I realized I wanted to use movement and exercise to better individual's overall quality of life and health. I am a certified personal trainer with CanFitPro for over 6 years, and coach the conditioning program for the local swim team.
Swimming was always such an important sport in my life, and with hard work I qualified for Canadian Olympic Trials on two occasions. I am now retired, but love the gym, getting on my road bike, tennis, yoga and any water activities. As evident by my international degrees, I also love to travel!
I am very excited to continue my career with the amazing staff and clients at Walk It Off! I look forward to meeting you and working together to help you reach your rehabilitation goals.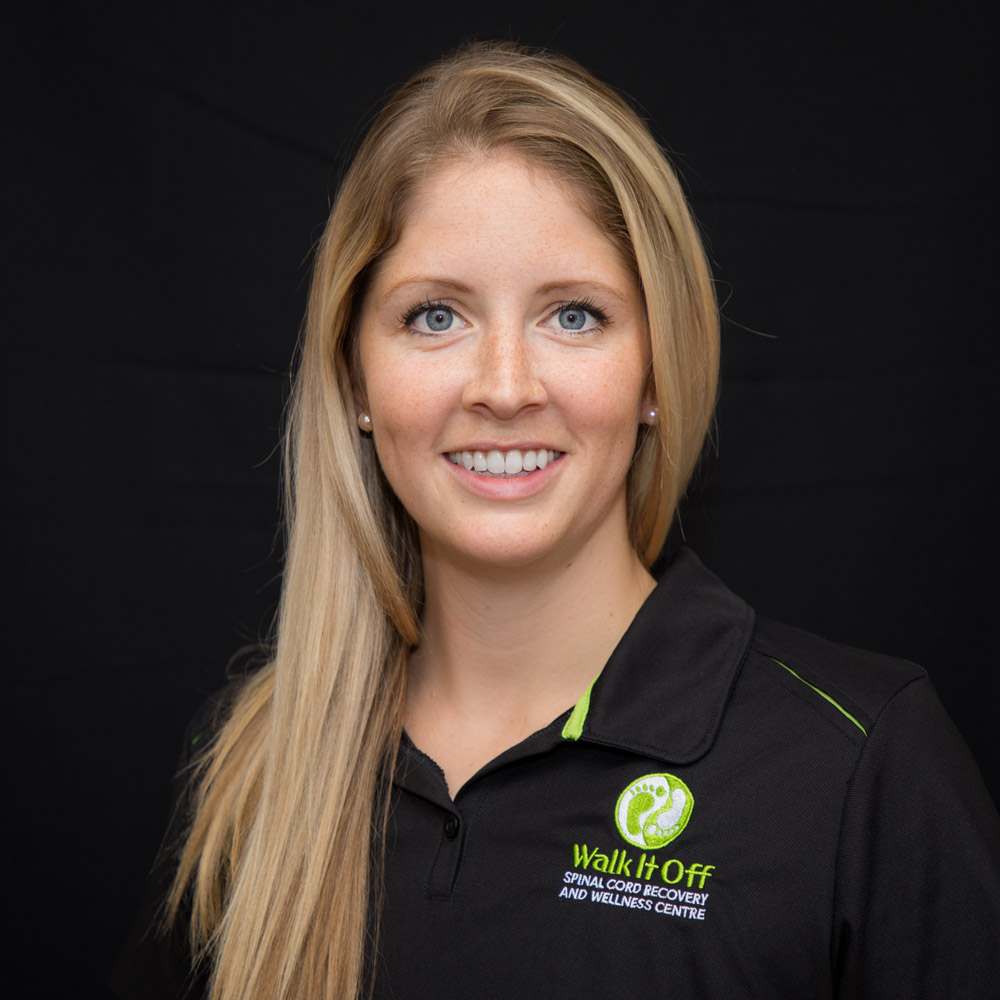 Heather Cairns-Mills BA Psych, ACP
My name is Heather Cairns-Mills. I am the Founder and President of Walk It Off. In 1994, I received my BA in Psychology from York University, and spent 3 years studying physical education. I earned my Certificate in Ambulance and Emergency Care from Centennial College in 1995 and later received my Provincial Advance Care Paramedic Certificate.
As a paramedic, I had the opportunity to work for 14 years throughout the province in Simcoe County, Halton/Mississauga and with Toronto Emergency Medical Service (TEMS). While I worked for TEMS, I assisted in spear-heading the Canadian Window Balcony Fall Prevention project with the EMS Chiefs of Canada. My experience includes supervising the Toronto Heat Alert Paramedic Program.
I have been my husband, Kevin Mills', primary care giver since his accident in February of 2009. This tragedy has giving me both a personal insight and the understanding of the extensive medical requirements of living with someone with a Spinal Cord Injury. I look forward to helping you with your recovery.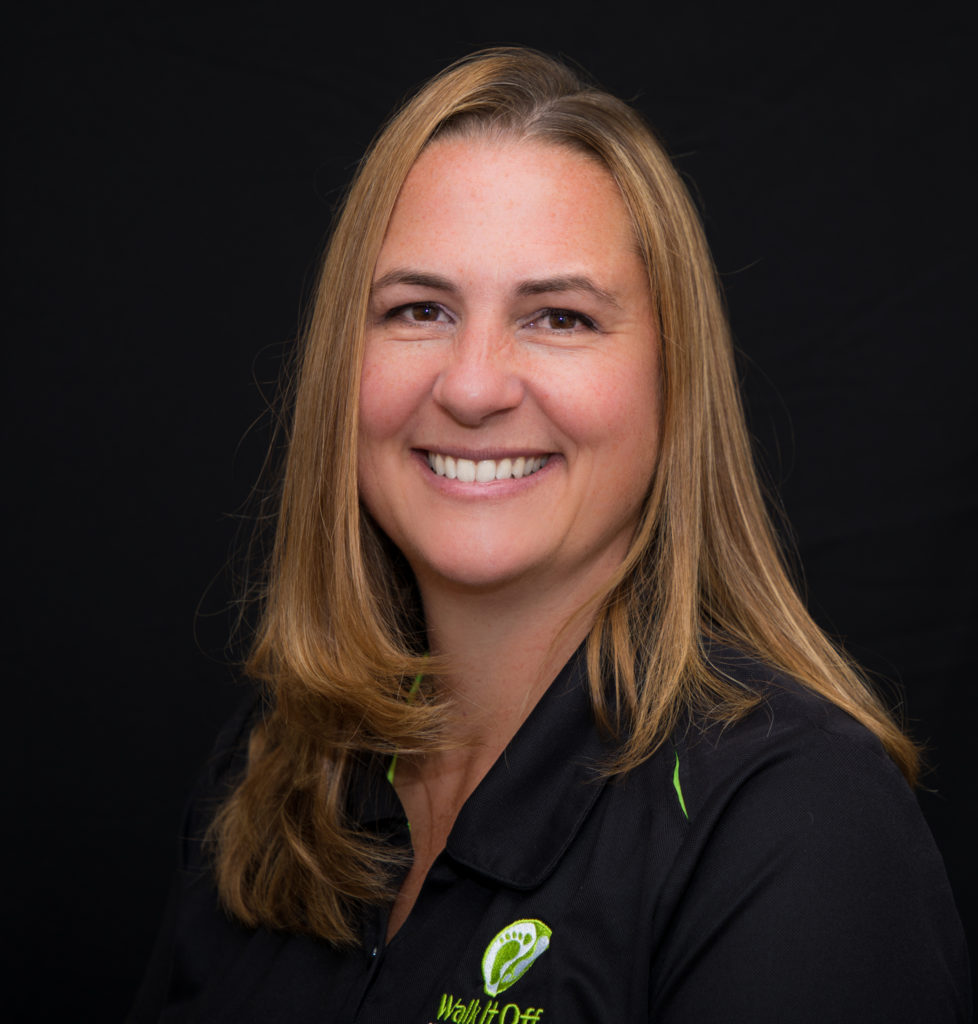 Kristina Georgiopolous BSc. Health Science
Facility Assistant
Hi, I'm Kristina. I've recently graduated from Bishop's University with a Bachelor of Health Science, minoring in psychology and sport studies.
In addition to academics, I was a member of the varsity women's soccer team, and the head organizer for our team's annual ALS walk, an initiative that raised awareness and funds for ALS Quebec and the Tony Proudfoot Organization. At such a small school, my academic and athletic opportunities allowed me to discover my passion to pursue a career in human rehabilitation and physical health.
As a lifelong athlete, I am aware of the importance of sports and physical fitness. However, I am also aware that injuries are an unfortunate reality. Being exposed to this both on and off the field has lead me to continue my involvement in sports through coaching with the Richmond Hill Soccer Club and obtaining my position here at Walk It Off.
As a Newmarket native, I am very happy to be working within the Walk It Off community where I continue to be exposed to a unique and innovative environment where I continue to learn and meet incredible people every day.